Iron Maiden guitarist Adrian Smith & former SikTh front-man Mikee Goodman have joined forces for a brand new studio project PRIMAL ROCK REBELLION, and their debut album, 'Awoken Broken', will be released on 27th February 2012 through Spinefarm Records...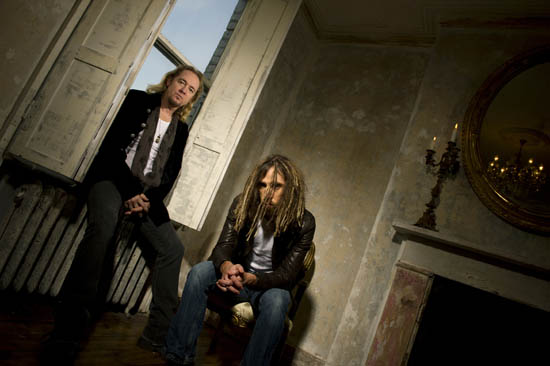 VERY OFTEN, musicians -- especially established ones -- like to remain within their musical comfort zone, preferring to walk the tried an' tested path rather than breaking out in search of pastures new. Primal Rock Rebellion don't fit that bill.
The brainchild of Adrian Smith and Mikee Goodman, UK musicians with different stories to tell, this is a fresh new project that manages to be both reassuring and unexpected at one and the same time...
On the one side, there's Adrian, a key member of the Iron Maiden set-up, a band he first joined back in 1980; and since that time, Maiden has gone on to become one of the biggest hard rock bands the world has seen, playing to vast and staunchly committed crowds all over the world, opening exciting new doors in parts of the globe many people will never even have heard of! Their last studio album, 'The Final Frontier', hit the No 1 slot in over 28 countries!
With Maiden's reputation having been forged through their ability to blend well-crafted vocal & guitar melodies with the sheer brute force of prime heavy metal, it will surely come as no surprise that the debut Primal Rock Rebellion album, 'Awoken Broken', delivers fully on both fronts, but with an extra nod to the underground, the alternative and the downright edgy -- an aspect of the music that is enhanced from start to finish by the presence of one-time SikTh frontman / lyric-writer / spoken word maestro, Mikee Goodman.
With SikTh now universally lauded as one of the major inspirations of the new 'Djent' movement, it's perfect timing for Mikee to return to the music scene in full force, following that band's decision to take a break after their second 'Death Of A Dead Day' album back in 2006; Mikee's unique vocal approach -- an arresting, signature blend of spoken word plus a wide variety of vocal tones (some dark and disturbing, others that owe a debt to the world of animation) was very much a part of what made SikTh stand out from the chasing pack, and fans will be delighted to know that his key vocal mannerisms have been both retained and honed for Primal Rock Rebellion, in a form tightly bound to the structure of the songs themselves.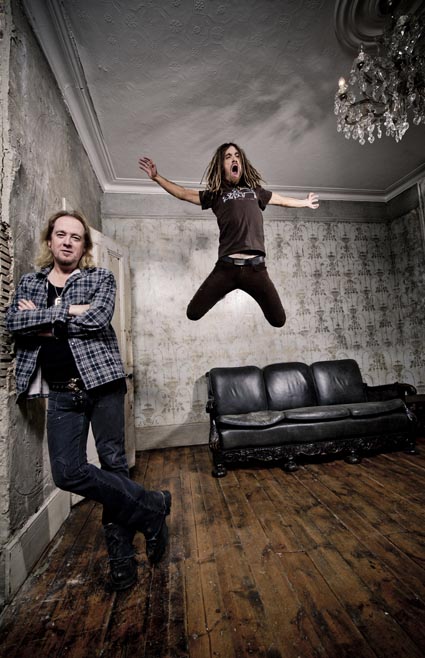 Yes, there are spoken word elements, and yes, there are more extreme vocal moments peppered throughout the tracks, but generally speaking, this is a more mature and experienced Mikee, showcasing a strong, melodic voice plus an impressive vocal range, using the more 'adventurous' end of his repertoire as a way of providing contrast and effect.
In essence, Primal Rock Rebellion is the meeting of different minds, different mentalities and different musical backgrounds, but the end result is very much a cohesive, self-produced whole... albeit one that reflects the individual talents of the musicians involved: Adrian provides the guitars, the bass and the advanced song-writing skills -- the sense of drama, of light and shade, of music designed to stir the senses, all of them.
Right from the start, it's been very much a labour of love...
Adrian: "It was great working at my own pace and in my own studio with no time constraints. I think during the making of this album I went around the world twice with Maiden, working on the project in between. In the process, it allowed for a bit more of an experimental approach."
Meanwhile, Mikee goes head to head with this renowned player as a full writing & production partner, adding new (sometimes surprising, often experimental) layers to the tracks, and ensuring that the music glistens with an inherent contemporary sheen.
Mikee: "Adrian inspired me in many ways. I learnt the importance and the power of choruses in songs. Adrian also gave me a lot more belief in myself melodically. I think we pulled each other out of our comfort zones, creating something fresh and exciting along the way. We co-produced the album together, and the whole recording process was very relaxed -- no deadlines, just honing the songs naturally as we recorded them, a new experience for both of us."

IN ADDITION to the Primal Rock Rebellion pair, there are backing vocals on three of the tracks (delivered by Tarin Kerry, discovered by Mikee while he was acting as producer for a band she was in), viola on the bulk of the songs (provided by Abi Fry of Bat For Lashes), plus original SikTh member Dan 'Loord' Foord on drums.
'Awoken Broken' was produced by Adrian and Mikee, and mixed by Simon Hanhart, whose previous credits include everyone from Tin Machine to Saxon. The album features 12 tracks top to tail, and it will be available on digi-pak CD, digital download and double coloured vinyl in gatefold sleeve. The track-listing runs as follows:-